Screw conveyors manufacturers
Screw conveyors manufacturers
Screw conveyors (otherwise called auger conveyors) are commonly used across many industries, namely : pulp and paper, food processing, wastewater treatment, mining, recycling, etc.
They can be manufactured in several materials, depending on the service. Common materials include: carbon steel and stainless steel.
Cold hardening and heat treatment processes are commonly used to increase the wear resistance of the auger. In addition, wear liners can be installed in highly demanding environments.
As already mentioned, carbon steel is used for the manufacture of screw conveyors.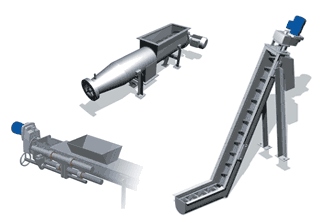 It is a basic material and relatively cheap. The use of exotic metals is also possible to get better performance.
SPIRALENGINEERING is a manufacturer able to fabricate screw conveyors to match customers requirements. We are professionals in this field and manufacturers of screw conveyors.
We take charge of the design and of the manufacture of all our conveyors. We also may assist the contractor during the installation and commissioning. Besides, we can also act as a consultant if you need a custom solution.
Screw conveyors manufactured by SPIRALENGINEERING have proven to be beneficial for long term use.
The design is carried out according to the latest available technologies. Spiral Engineering offers competitive prices, high quality standards, a personalized service, and the respect of deadlines.
Our capabilities to offer you impeccable stainless steel fabrication services have given us an edge over our competitors in the metal industry.
Metal fabrication cable railing of custom stairways, interior and exterior building trim, custom sinks and perforated metal.
Providing solutions to OEM's looking for quality metal fabricated parts and on-time delivery at the best price possible.