Mixing tanks with agitators
Mixing tanks with agitators
Certain processes require mixing of materials. Mixing tanks may then be used to accomplish this task.
Without an adequate tank design, the quality of the mixing will be impaired, leading to significant production problems. The intensity of mixing may vary depending on the end goal: dispersion, homogenization, dissolution, emulsification, heat transfer, etc.
But how to select a mixing tank?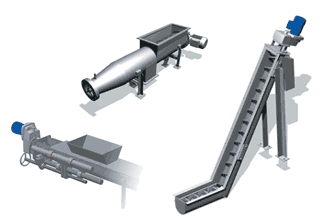 The best thing to do is to rely on the expertise of SPIRALENGINEERING. We have more than 20 years of experience in this field.
We offer innovative designs with accurate and cost effective solutions using the latest CAD tools. As a consultant, we can help you design or select a mixing tank tailored to your needs.
The type, size and shape of the tank you will use should depend on various parameters : flowrate, intensity of mixing required, temperature, viscosity, concentration, pulp consistency (Pulp & Paper), etc.
Another important feature of a mixing tank is its ability to keep the mixture in suspension before being pumped.
This requires the agitator to operate at the right speed in order to move a sufficient volume of mixture, thus ensuring homogeneity throughout the tank.
SPIRALENGINEERING can leverage its expertise to design the most optimal tank based on your specific needs.
Not all companies out there that offer this equipment for sale service that equipment down the line. In fact, it's often better to use our company that designs their own agitator tank options, as well as their own impellers, impeller shafts and other required equipment.
This ensures that you are able to work with the best possible provider as SpiralEngineering, and that you will be able to rely on our service, expertise and experience down the road.