Small screw conveyor
The small screw conveyors were invented in the time of ancient Greece.
It was initially used for the transport of water. This invention was attributed to Archimedes.
Even today, the basic concept of the screw conveyor has not changed much, except that they are no longer driven by men.
The mechanism of the small screw conveyor is quite simple, compact, and effective.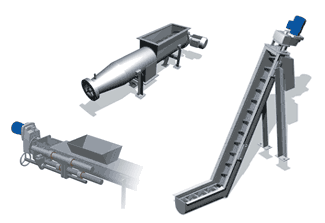 The screw conveyor is mounted in a usually horizontal opening and is attached to the existing structure using fixations.
Should you need a custom service, Spiral Engineering can help you because we are a specialized manufacturers in this field.
In addition, we can assist the contractor during the installation phase.
The screw conveyor is used to move liquids and loose materials that cannot be moved by the roller or bucket methods.
The conveyor consists of a long metal tube containing a large screw.
This screw forces the materials, through the tube, to the destination. It is capable of moving materials on an incline, horizontally or straight up. Their ability to fit into small places makes them very convenient to use when space is limited.
The materials used for the screws include : carbon steel, stainless steel, nylon, Teflon, aluminum, and brass.
Screw conveyors designed by Spiral Engineering have superior resistance to corrosion and wear.
Furthermore, they require low maintenance.
Spiral Engineering offers complete solutions for your conveying needs. We have offered expert advices for over 20 years in this field.